Fully automatic 5l high speed pet bottle blowing machine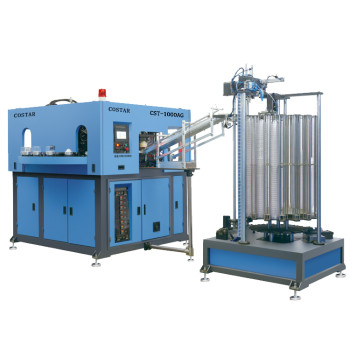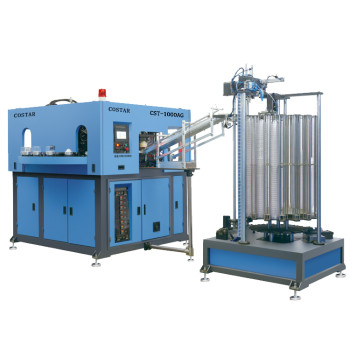 Condition: New Application: Bottled Plastic Processing: PET
Brand Name: COSTAR Voltage: 380V Power (W): 24
Automatic: Yes Weight: 1850kg Certification: TUV
Warranty period: 1 year Number of cavity: 1 cavity Repair power
: 24kw
Energy saving: Yes Color: Any customer who needs color Clamping force: 12000N
Clamping stroke: 125mm
host weight: 1850kg
theoretical output: 800-1000bph
Working pressure: 7-9kg/cm2 After-
sales service: Video technical support
Main Machine Dimensions: 1950 * 1850 * 2100 (mm) preform loader
Dimensions

: 1350*1250*2200mm
Place of Origin: Jiangsu Province, China (Mainland) Blow Molding Type: Injection Blow Molding
| | | |
| --- | --- | --- |
| | | CDT -1000SG |
| Clamping force | kg | 12000 |
| Clamping stroke | Mm | 125 |
| Stretch stroke | Mm | 300 |
| Bottom stroke | Mm | 40/70 |
| Cavity spacing | Mm | 300 |
| Number of cavities | Cavity | 1 piece |
| Carriaget unit | A | 26 |
| Theoretical output | bph | 800-1000 |
| Total power | Work | 26 |
| Healing power | Work | 16 * 1.5KW = 24 |
| Number of lights | Number of layers | 8 |
| Operating Pressure | kg/cm2 | 7-9 |
| Low Pressure Air Consumption | liters / min | 1600 |
| Blowing Pressure | kg/cm2 | 20-30 |
| High Pressure Air Consumption | liters / min | 1600 |
| Operating Pressure | kg/cm2 | 2-4 |
| Temperature Range | °C | 10-12 |
| Consumption | kcal/hr | 2000 |
| Flow Rate | liters / min | 130 |
| Main Machine Dimensions | mm(L*W*H) | 1950*1850*2100 |
| Main Machine Weight | kg | 1850 |
| Preform Loader Dimensions | mm(L*W*H) | 1350*1250*2200 |
| Preform Loader Weight | kg | 800 |
1--Adopt special electronically controlled loop design while heating lamps; High efficiency in simultaneous controlling one lamp or large quantities, lower power consumption.
2--Adopt heat transfer and feedback theory to decide the shape and thickness of bottle embryo.
3--Heating furnace is always under stable temperature. The embryo will be heated evenly, not be influenced by outside environment.
4--Air circuit system consists of movement and blowing so as to meet the needs of different air pressure ,Also to provide stable high voltage for blowing different shapes of big bottles.
5--The system is equipped with silencer connecting rod and articulated refueling devices.
6--Two modes of operation, automatic mode and semi-automatic mode .
7--Auto. low investment, one person enough, easy to use and safe.
8--Cooling system with cold air circulating ensures same heat exposure of inner and outer of bottles.
Supply Ability

Supply Ability:

400 Set/Sets per Month pet bottle blowing machine price
Packaging & Delivery

Packing details: 1 set of 1 year warranty, 5 liters of juice pet blow molding machine, the price is wooden pallet packaging, standard shipping packaging injection molding mold
Shanghai Port/Ningbo Port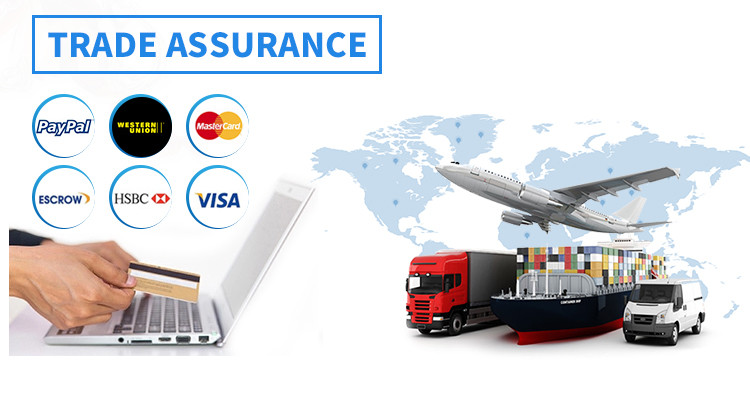 Hot tags:One year warranty 5 liter juice pet bottle blowing